For those who do not know us, we are "Pathos", a purely Greek company with vision, passion, and extensive experience in the field of tourist entertainment and recreation. We cooperate with hotels, resorts, travel agents and tourism operators, offering always first class services! Our history and our ongoing cooperation with some of the most prominent companies in Greece in the field of tourism, sow the reliability that "Pathos" provides to its partners.The key to a long-term relationship with our partners is definitely our passion and dedication to providing quality, personalized and well-thought-out services. Our company, with many years of experience in the fields of leisure sports, children's and family entertainment, creates charismatic Animation teams offering innovative programs and high quality services, ensuring the satisfaction of an increasingly demanding visitor. We specialize in finding, selecting, training and recruiting, Tourist Entertainers for hotels and tourist resorts in Greece.
We provide first-class professional services and offer high quality and experienced Greek or International entertainment personnel, setting high goals for the maximum satisfaction of your expectations.
Having been gain a high position in the field of Entertainment and Recreation, we are able to provide you a big variety of first class services in order to choose the best option for you.
After many years of experience in Greek Hospitality, we stand here, sure about ourselves putting high targets for the satisfaction of your biggest expectations.
Our vision is to provide the best services for every customer through personalized activities.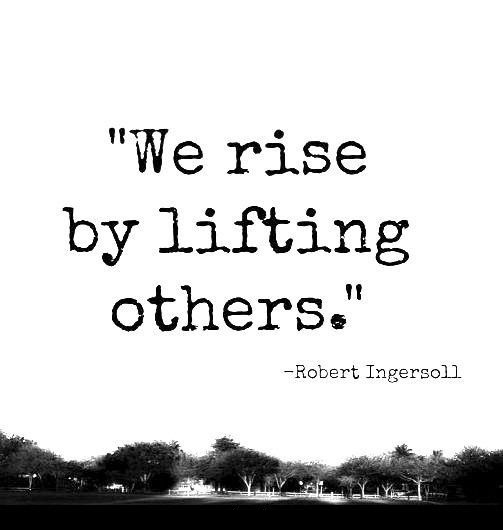 Our Services
We undertake and provide the following services with the necessary trained staff:
Daily Entertainment programs and activities for your customers, always tailor made just for your hotel
Excellently prepared Evening Entertainment programs by our Animation teams, such as: Comedy Shows, Games Night, Karaoke, Team contests, Quiz's, etc.
Unique Themed Evening Shows (Dancing Shows, Cabaret & Burlesque Shows, Musicals, Michael Jackson Show, etc.) by our Animation teams
Unique children's programs for all ages from 4-17 years (mini, maxi & teeny club operation)
Exclusive Evening Children's Shows (will be presented only in your hotel)
Exclusive Shows (will be presented only at your hotel) made by choreographers of Pathos Greece to offer you the different, the special, the above and beyond the standard performances
Unique External Professional Shows by our professional performers:
Music Live Shows (Solo Artists, Duets, Trios & Bands),
Dancing Shows (Cabaret, Burlesque, International, Musicals, Latin, Tango, Flamenco, etc.),
Magicians & Illusionists,
Fire & Led Shows,
Fakir Shows,
Acrobats & Circus Shows, κλπ.
Experienced, multilingual, (International or Greek) Tourist Entertainers, for the fully recreation & entertainment of your visitors. More specifically:
Entertainment Personnel we can provide to you:
Chief Entertainers, Team Leaders, Area Managers.
Sport, Fitness, All Round, Entertainers
Kids Entertainers, (Mini-Maxi, and Teenagers)
Dj's, Sound & Light Entertainers.
Choreographers, Dancers, Set Designers, Costumists.
Professional Entertainers (acrobats, circus artists, dancers, singers, musicians, professional Dj's, magicians, κλπ.).
Journalist, Guest Relations & Social Media Entertainers.
Our International or Greek Tourist Entertainers they will welcome, entertain and give to your visitors, unforgettable holiday memories and always the best quality of Services.
Kids Animation – "Kids Fun"
Creative Animation program for children aged 5-10 "KidsFun"
The Kids Fun program aims to creatively engage our little friends with activities and sports of their choice. The program is weekly, combining learning with entertainment, sports and play. With original pedagogic and entertainment programs, a multitude of sports, artistic, cultural, experiential, etc. activities for boys and girls from 5-10 years of age will definitely be their most beloved summer action. The daily program is structured and customized so that it is always diverse and with high interest for the children participating it.
Our animators are graduate educators, pedagogues, trainers, coaches, selected with very high criteria and are distinguished for their love for children, their cheerfulness and their responsibility.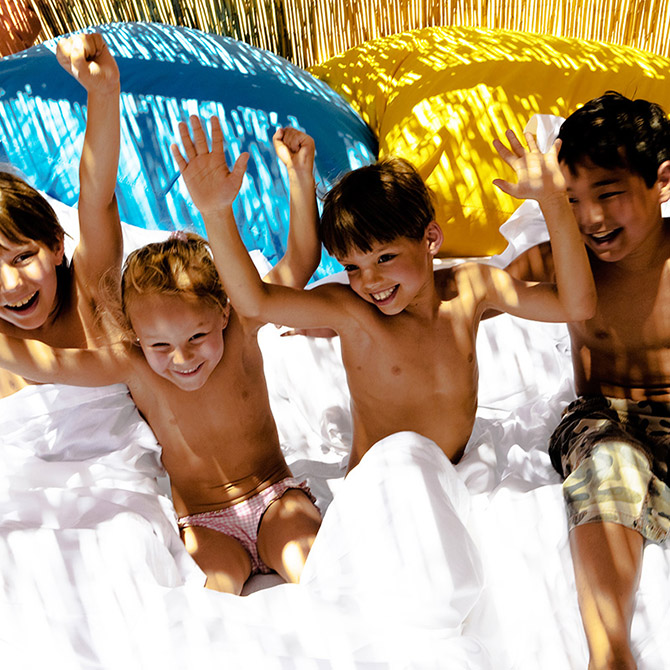 "KidsFun" at a glance:
- For boys and girls aged 5-10 years
- Every week 7 days full of action & fun (morning & afternoon zone).
- Meeting points organized by our team.
- Mixing recreational, sports, artistic, etc. activities.
- Experienced, multilingual and well-trained staff.
INDICATIVE ACTIVITIES (depending on each resort):
Theatre Workshop
Kallitechnoupolis
Art Exhibitions
Pony ride
Collaboration games
Beach Games
Mini Chefs
Modern dance
Funny Olympic Games
Dodge ball
Fishing
Treasure Hunt
Sports (tennis, basketball, football, volleyball, etc.)
Mini disco club
Experiential learning
Teenagers Animation – "Teens Life"
Creative Animation program for teens 11-16 "TeensLife"
Endless hours of fun and varied activities, within the week. There are no tight timetables, just meeting points with our team and their freedom to try something new. Do you want to give them the opportunity to live an unforgettable summer adventure and make new friends? If so, our team is ready to show them how.
"Teens Life" at a glance:
- For independent teenagers, aged 11-16.
-Every week, days full of action & fun.
- Meeting points organized by our team.
- Blending sea and land sports and activities.
- Experienced, multilingual and well-trained staff.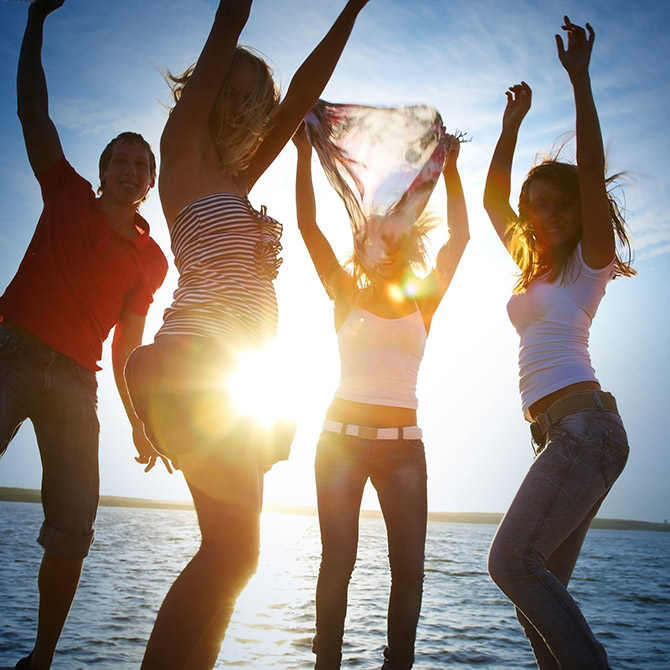 INDICATIVE ACTIVITIES (depending on each resort):
Horse Riding
Scuba Diving
Rock Climbing
Tennis
Kayaking
Water Sports Activities
Archery
Orientation
Team Building Activities
Sports (volleyball, football, basketball)
Dodge Ball
Swimming Activities
Photography
Actoring
Modern Dancing
Billiards Tournaments & Board Games
Funny Olympic Games
Treasure Hunt
Go Karts
Cooking
Fishing
Beach Party
BBQ